Still need some ideas for crowd pleasing ideas to serve on the Fourth of July? This could be what you are looking for!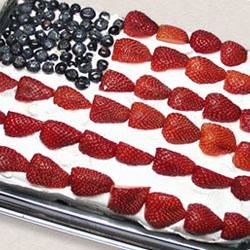 Red, White and Blue Strawberry Shortcake Recipe - http://t.co/45DMTTktSG http://t.co/EVmahxaLrs
— ErikaLyn (@Cuprum29Jewelry) June 30, 2014
Erika is getting a reputation with all of us at
Group2020
for great recipes!
Fresh Fruit! Cake! Red White and Blue!
Enough said.
Well actually not. While Erika of Cuprum29 shares great food with all of us I would like to share with you that she is a talented artisan. Her specialty is handcrafted mixed metal jewlery and her designs are stunning!
You can find her shop at Cuprum29
.
Share shop or food comments with us! We would love to hear from you!