It's been a long day, so relax and enjoy the view! Welcome to the Handmade Artisan Fine Jewelry Studio that puts YOU center-stage! Sterling Silver & Gold Filled Designs abound. Update your look, wardrobe, & style. Genuine Gemstones, Wire Wrapped Styles, and my beloved Altered Authentic Vintage Jewelry Pieces. Enjoy!
With a welcome like that how could you not take the time to browse the shop of Exquisite Studios on Etsy? When you do take the time to read the descriptions of the items. She has a great deal of joy and enthusiasm for each piece of jewelry n the shop and it shows!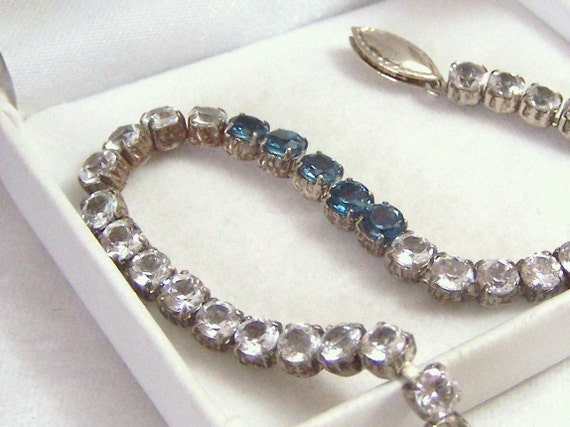 Monumentally Gorgeous! Handmade Artisan Altered Authentic Vintage Sterling Silver Tennis Line Bracelet featuring 10.50 Carats, tgw., of Genuine White & London Blue Topaz Gemstones!





I've been working on this Fine Jewelry Bracelet for over a month! Now this impressive, Sterling Silver, Authentic Vintage piece is all ready for YOU! This is 7 1/4 Inches in length, and the clasp has a 2-step security feature, with its hook-and-slide lock style that's perfect for its age. The clasp is not Vintage, as this was another modification I performed since the original clasp was smashed and unusable.





One of the most fascinating things I discovered about this particular piece, is the way it is designed. Most bracelets of this style are connected with each mounting having a slot on either side with a section at their tops that can be pulled apart to add the next mounting to create the line/tennis style. THIS gorgeous bracelet however, features slots on either end that the connector goes through, but--these sides are solid--no pull-apart section at their tops. These are crown mountings and the connectors are the most incredibly created ones I've ever seen. The connector "tabs," if you will, are each doubled AND soldered, making them thicker and stronger but still able to offer the overall flexibility necessary for this design. These tabs sit inside each mounting to hold one to the next--hence the term "line" when referring to this style. It's a truly amazing feature that I would be remiss if I didn't brag about.





After a thorough cleaning, polishing, and inspection, I wanted to choose the very best way to show-off this brilliant bracelet. Each of these prong mountings features a 4mm Genuine Grade AAA Gemstone, and oh my gosh are they spectacular! Every clear stone you see, is .32 Carats of White Topaz Gemstones, and the 5 center stones are each 4mm .38 Carats of London Blue Topaz Gemstones. I almost couldn't believe my math when I added these sums. There is a total of 35 mountings for an undeniably stunning 10.50 Carats, tgw. For a piece as grand as this, I feel both it and YOU, are absolutely worth it! Enjoy!
The words above show exactly what I meant about the enthusiasm and joy in the descriptions. Along with that is very detailed information on the components and the process of bringing this piece back into circulation in such a beautiful way.
So go ahead and browse the shop
Exquisite Studios
because as Emily says."YOU are absolutely worth it!"