Each week our Group2020 members list four items to be shared and promoted by all the other members. As the author here every Wednesday I pick one of those four from each of them to share.
This week six of us are sharing so that is what I am showing off to you today. Get ready cause here we go!
Lehane Arts on Etsy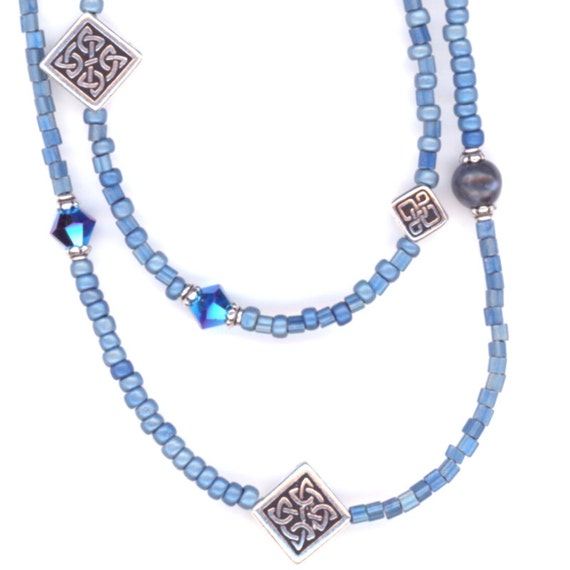 This Celtic inspired necklace is a double strand of light blue beads, crystals, gemstones, and Celtic symbols. The strands are set up in an asymmetrical design. Tiny seed beads both round and triangular are a beautiful shade of blue.
The necklace is ornamented with bicone crystals, Celtic knot beads, and round jasper gemstones.
Celtic knot beads, bead caps, toggle clasp are antiqued silver plated pewter (lead and nickel free). The asymmetrical design is whimsical and carefree.
Blue is a calming color with spiritual meaning. The endless knots on the Celtic diamonds are ancient symbols representing the flowing of time and they remind us that all existence is bound by time and change, yet ultimately rests serenely within the divine and the eternal.
BountifulSoap.com by Lanmom Originals
Super gentle strawberry soap to pamper your skin! The natural strawberry puree makes this pure olive oil soap delicious in your shower and the seeds give a dash of gentle exfoliation. This is an almost unscented bar, with just the light scent of the strawberries.
Contains olive oil, water, sodium hydroxide, strawberries, almond milk, madde
r.
SilverRiverJewelry.com
Lemon Yellow Handmade Glass and Silver Earrings
Lemon yellow handmade lampwork glass and silver earrings.
Handmade yellow disc lampwork glass beads that are actually striped opaque and transparent lemon yellow. I chose to pair these lampwork glass beads with yellow Swarovski crystals and silver plated findings.
Bright, cheerful and happy earrings!
Cozy on Zibbet
Comfortable, adjustable, headband with ties made from black fabric with green crocheted trim and ties, accented with red, orange, pink and green.
Use this 20 inch by 2 inch headband to keep your hair tamed with a bit of style. The 10 inch ties will
give you a perfect fit every time.
The Tinseled Whisker on Etsy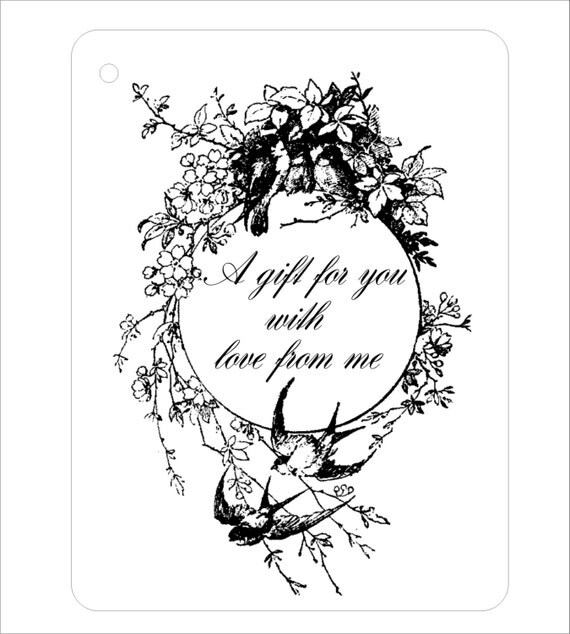 These lithograph style handmade bird gift tags are custom printed with your sentiment. The image features three swallows perched on top of a floral wreath that surrounds your greeting. Two more swallows fly below. Printed in black ink on your choice of white or cream premium quality cardstock.
Last but never the least of us, our shop of the week
Pickle Valentine on Etsy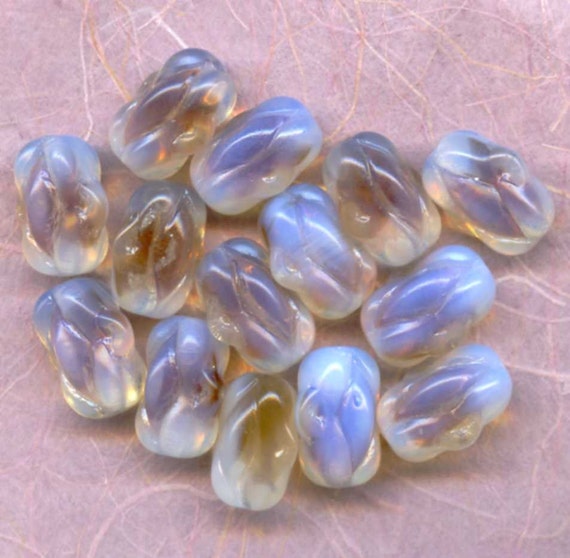 Six large vintage West German opalescent glass beads with cinnamon mocha givre, an opalescent translucent light pinkish brown. I don't know how else to describe this color! These are some of my favorite beads. They are beautiful, they go with hard to match beads, and they are great with purples, soft browns, pinks, blues and topaz. The beads are molded in the shape of a long knot. They are large, measuring 15mm x 12mm. They are very opalescent, and the givre is encased in the milky opalescent glass.
My photos show how these look in two different lights.
Thank you for shopping with us and Happy Beading!
To all our readers, thanks for giving us a look, shop and share, come back anytime with comments or questions. We would love to hear from you.