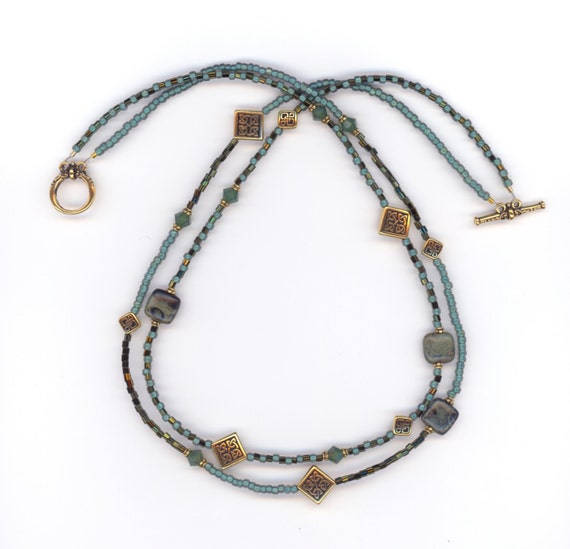 This beautiful teal and black Celtic Necklace is an asymmetrical double-strand design. The Celtic necklace uses tiny teal and black round and triangular seed beads. These shapes create differing reflections of light and draw attention to the necklace.The asymmetrical strands include gold Celtic knot beads, emerald crystals, and kambaba jasper gemstones. This free-spirited teal green and black necklace has everything!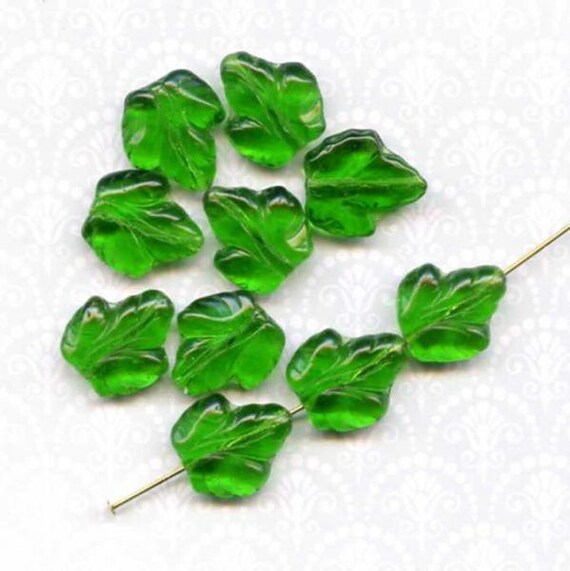 Ten translucent vintage emerald green molded leaf beads. These shimmer in the light and have great molded detail. They are 15mm long, 13mm wide and 5mm deep. The back is flat, but because the glass is transparent, the fronts show through. I believe these were made in the 1920s-1930s. These beads were molded and like many of the old Czecho-Deco beads produced for the flapper era, they are not totally matching.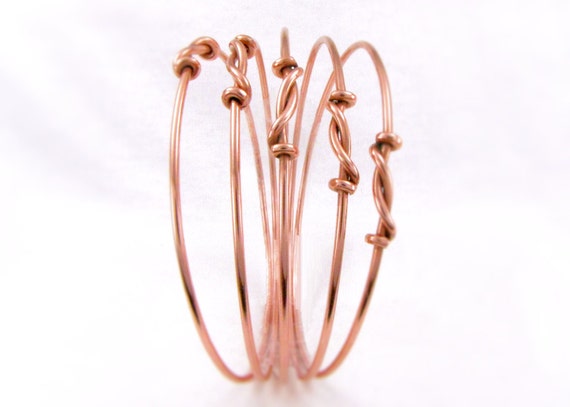 This five piece copper bracelet set includes five medium weight knotted copper bracelets crafted by hand from raw copper wire with the ends secured in a long wire wrapped knot as an point of interest in the design.
These stacking bracelets were then tumbled to harden the metal and to produce a shiny luster and were finished with a superior grade metal polish to make them really shine.
This bangle set is light weight and sturdy, suitable for every day wear and creates a delicate jingling sound as they move on the wrist.
This dish cloth has been knit by me with a textured stitch for scrubbing ability while the cotton yarn is gentle enough to use on even your most delicate dishes and glassware.
This long lasting white cotton knit dishcloth is just waiting for you to put it to work.
A pretty lentil pair with an organic ivory base and a silvered ivory strip.
Accented with purple dots.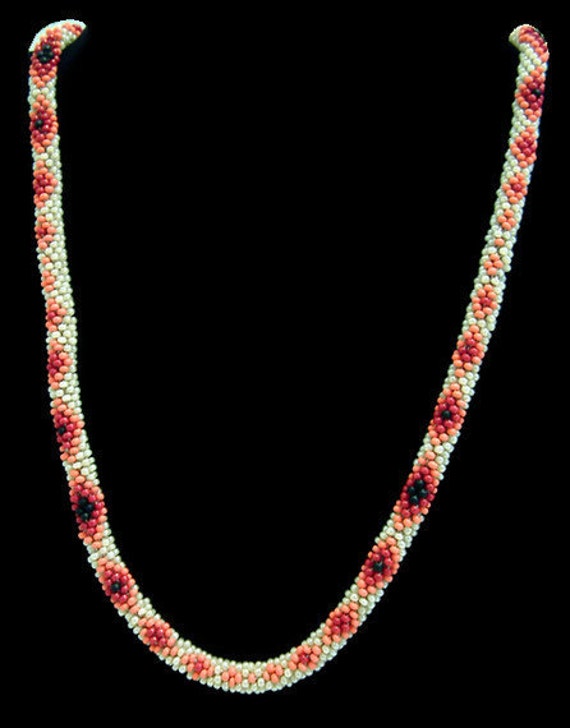 Beautiful handmade bead crochet necklace! This lovely beaded rope is made with a mix that includes thousands of Czecho and Japanese glass seed beads in cream, coral, brick red and black. The dramatic graduated diamonds snaking along the cream rope are complemented by the solid copper end caps and toggle closure. The necklace is 5/16" in diameter and 19 1/2" from end to end, which gives a wear length of about 19".
As with virtually everything I make, this pattern is my own creation and is lovingly crafted in a non-smoking and non-pet home. See my other listings soon for the coordinating earrings and bracelet. Please note that I can also make a necklace, bracelet or earrings from almost all my patterns!
The pictures are links. Check them and the shops out. Leave comments, pins and tweets are loved and appreciated.
Most of all go shopping. We'll be here with more next week.